- ECONOMIC IMPACT -
Latest update: 17 February
Many economists have cut their GDP forecasts. The 2021 consensus forecast for GDP growth is currently negative and many predict a recession.
There are 4,247 clinical trials for Covid-19 and promising clinical data continue to emerge for vaccines.
IMF projects global economic growth at 5.5% for 2021, which is an upward revision from
5.2% rise estimated in October 2020.
Unemployment rate among G7 nations increased marginally to 6.1% in December, as compared to 6% in November, but down from 6.9% in August 2020.
Impact of Covid-19 on equity indices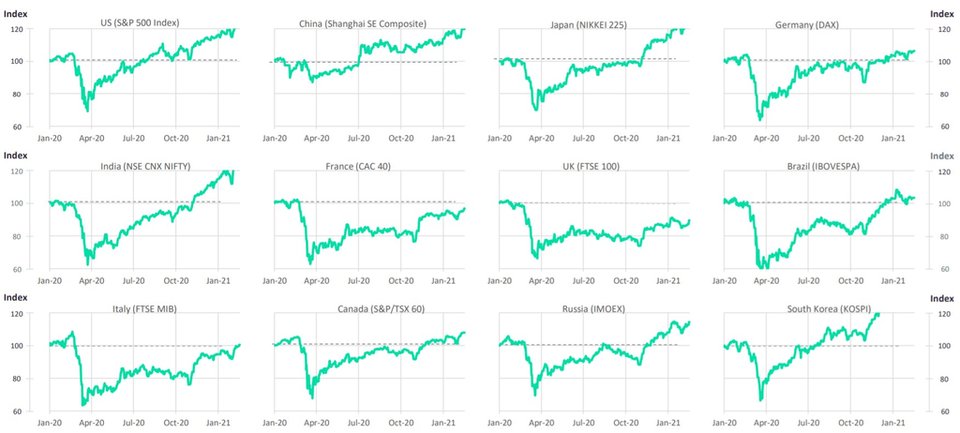 - SECTOR IMPACT: TRAVEL AND TOURISM -
Latest update: 03 February
Spending will fall broadly in line with the decline in tourism flows. GlobalData figures show that inbound expenditure globally fell by 54% in 2020.
GlobalData figures show that international arrivals globally fell by 49.0% in 2020, a catastrophic drop that has turned the tourism sector on its head. Many had hoped that the end of 2020 would breathe new life into the industry, but this feeling has been replaced by increased travel restrictions and quarantine measures as concern over new variants grows.
The travel & tourism industry has not seen the kind of turnaround it was hoping for. Concerns over new variants that may be more contagious have led to the re-imposition of stringent travel restrictions and quarantine requirements in many parts of the world, most notably in Europe.
In the US, the new Biden administration has reintroduced travel restrictions that were lifted towards the end of the Trump administration. This does little to inspire confidence in booking travel.
In response, companies are adapting their operations. Airlines are once again reducing flight schedules, while hotels continue to work on making themselves Covid-19 secure. Tourism boards have, in many cases, been forced to shift their focus towards attracting people from their domestic market.
TRAVEL & TOURISM MITIGATION STRATEGIES