Hot desking hotels: the new working from home?
Marriott International recently announced a new 'work anywhere' programme that targets the growing number of people working from home. Marriott Bonvoy's new flexible passes offer solutions that cater to guests seeking a one day stay from early morning into the evening, an extended overnight stay with early morning check-in and evening checkout or a multi-day work and leisure destination getaway. Alex Love explores the potential of targeting short stay working guests.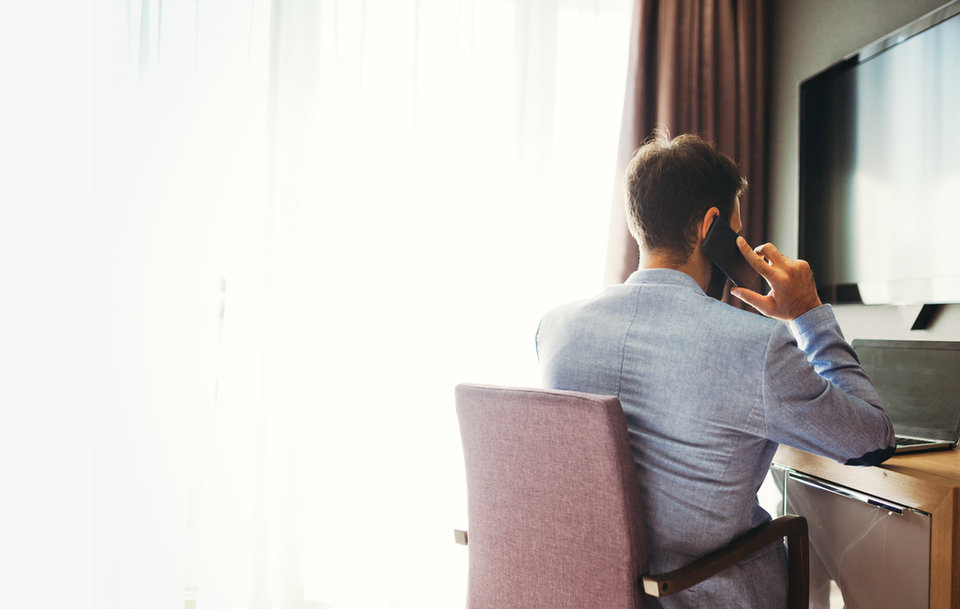 W
orking remotely is here to stay as a direct result of Covid-19. Yet peace and quiet cannot always be guaranteed at home, with potentially numerous distractions and temperamental Wi-Fi.
At the same time, after a turbulent 2020, hotels are looking for new revenue streams as they seek to recover the considerable losses caused by the pandemic. It therefore makes perfect sense for hotels to try and cater to the emerging remote working market. Marriott has launched its Bonvoy package specifically for this, and the potential is certainly there for success.
In a live GlobalData poll answered by 4,416 people, 46% wanted a combination of both office and remote working when workplaces start to reopen.
"This significant portion of respondents stating the need for flexible working shows that Marriott has put itself in a proactive position to respond to this growing change in demand," says GlobalData travel and tourism analyst Ralph Hollister.


With the novelty of working from home starting to wear off for a number of workers, businesses may be looking for other options to add some variety and increase productivity. But with a deadly virus still in circulation, many workers still feel cautious about commuting to offices. And a private hotel room subject to stringent cleaning protocols may be appealing.

Another factor is that office-based businesses are currently reassessing how they use their spaces. Companies are contemplating whether it is worth renewing expensive city centre leases if the majority of the workforce is mostly home-based. Should a large proportion of these leave city centre premises over the next decade then this could open more opportunities for providers of temporary, co-working or one-off spaces.
The virtual or temporary office concept is not new, with companies such as Regus popping up in locations all over the world. However, hotels already have many of the facilities offered by virtual offices such as a reception, bookable meeting rooms, communal areas and high-speed broadband. Where hotels have an advantage is also being able to provide private bedrooms and leisure facilities.
Packages offered by Marriott Bonvoy effectively see a bedroom transformed into a private office. The scheme is offered at Marriott properties throughout the US, as well as other destinations that include Dubai, Hong Kong, London, the Netherlands and Toronto.
Guests have three pass options, which increase in perks at each level. A Day Pass allows a guest to check-in as early as 6am and check-out at 6pm with no overnight stay. Their private bedroom features a suitably sized desk, plenty of plug sockets, high-speed Wi-Fi and an en suite bathroom. Guests also have the option of using a hotel's printers, fax machines and scanners.
The Stay Pass features all the benefits of the Day Pass, plus an overnight stay, along with access to leisure facilities and public spaces within the hotel. Guests receive a food and drinks voucher that can be used to get money off either in the hotel restaurant or for room service.
Loyalty schemes are now positioned to drive hotel recovery and hotels have recognised this.
The Play Pass is for longer stays and targeted more towards families as it entitles guests to supervised activities for children. Other benefits include having a designated assistant on call for business needs and to run errands, with the option to book larger workspaces on-site and meeting rooms. For all Marriott Bonvoy passes, guests gain loyalty points.
A competitor providing a similar remote working package is Hilton with its Workspaces scheme. The chain is offering 10,000 Hilton honours bonus points for the first time that a guest books a Workspace package.
Both hotel chains are hoping that such incentives will help accelerate their recovery from the pandemic.
"Loyalty schemes are now positioned to drive hotel recovery and hotels have recognised this. Companies are now thinking of new strategies so more bonus points can be offered for new bookings after travel disruption ends, which has the benefit of increasing new earnings and repeat business," adds Hollister.
Diversifying hotel services
The traditional business travel market is expected to shrink at least in the immediate aftermath of the pandemic. Furthermore, Bill Gates recently predicted that post-pandemic business travel could be permanently 50% lower than pre-virus levels. This is due to companies questioning whether it is worth paying for travel and accommodation for meetings that could be done via video calls, which have become a part of everyday life in 2020.
"Companies in all sectors will be looking for ways to reduce costs in the coming years as they reel from the economic impact created by Covid-19. Business travel is a costly expense for all companies and with the rise of video conferencing software such as Zoom and Google Meet, many will realise that this type of ongoing expense is unnecessary, at least for the time being. Business travellers themselves may also not be keen to undertake the frequent and often stressful trips they were performing pre-pandemic," suggests Hollister.
In order to adapt to the new normal, hotels will need to diversify the services they offer. And while offering remote working packages won't solve all the problems on their own, they do form part of the solution.
Instead of having to commute into an office somewhere, people can commute to somewhere more convenient.
Russell Kett, chairman of hotel advisory firm HVS London, suggests that hotels should even consider going further in embracing remote working by turning larger rooms into temporary workspaces for several workers from a business seeking to get everyone together but apprehensive about returning to city centre commuting.
"Why stop at hotel rooms? We all know that hotels in many locations have banqueting suites – some of them are really quite big. And at the moment, the appetite for meetings and events is generally poor to middling at best, and non-existent in some cases," says Kett.
"So, as we climb out of this pandemic into a new era, where hotels foresee a significant amount of time before the meetings, incentives, conferences and events business comes out, why not use that space to provide not just work opportunity spaces, but where colleagues who are located within the vicinity of a hotel can congregate. And they don't have to be in an individual bedroom, they can have the benefit of conviviality and collegiality.
"Instead of having to commute into an office somewhere, people can commute to somewhere more convenient. But they can also get the benefit of what a hotel can offer."