The rise of apartment hotels
The apartment hotel has become a hot commodity as hoteliers work to compete with services such as Airbnb and accommodate increasing social distancing requirements. But what is the difference between a classic hotel stay and the apartment hotel guest experience? Luke Christou takes a look at this growing trend, and what hoteliers are doing to remain competitive against renting companies.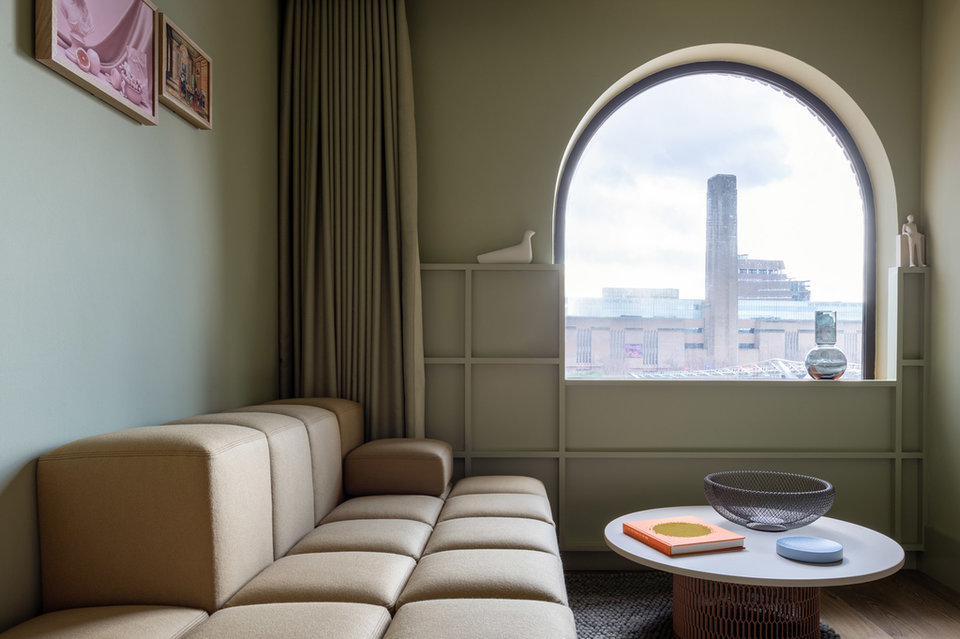 W
hat started as an air mattress on three former schoolmates' living room floor has since blossomed into a hospitality giant, valued in excess of $30bn.
Over the last decade, Airbnb, which owns no actual rental real estate, has sought to disrupt the traditional hotel industry. By and large, it has been successful — last year, according to insight from data analytics company Second Measure, Airbnb generated more money in the US than Hilton, the world's second largest hotel group, and narrowed Marriott's lead over the market. As such, Airbnb now accounts for 20% of consumer lodging spending in the US market and continues to grow at a faster rate than the world's three largest hotel chains.
Airbnb's growth has had a significant impact on hotel revenues. Researchers from Florida State University, Boston University and Texas A&M University recently found that for every 1% increase in the number of Airbnb properties available in a market, the industry saw average revenue per room (RevPAR) decrease by 0.02%. In New York, for instance, every 1% increase in available Airbnb properties saw hotel occupancy dip by up to 0.1%.
Airbnb's success is largely down to the value for money that it offers, with 70% of guests saying they book homestays to save money according to Consumer Reports. Likewise, 58% said they were seeking unique accommodation, while 53% wanted accommodation that offered access to a kitchen.
Despite that, studies show that Airbnb is more of a threat to the industry's growth than its existence. While some 60% of leisure travellers who stay at both hotels and Airbnb's say they prefer home rentals over hotel rooms, 68% of business travellers say the opposite, according to Clever Real Estate.
The same Consumer Reports survey found that safety concerns put 55% of guests off booking homestays, while 40% didn't want to interact with the homeowner.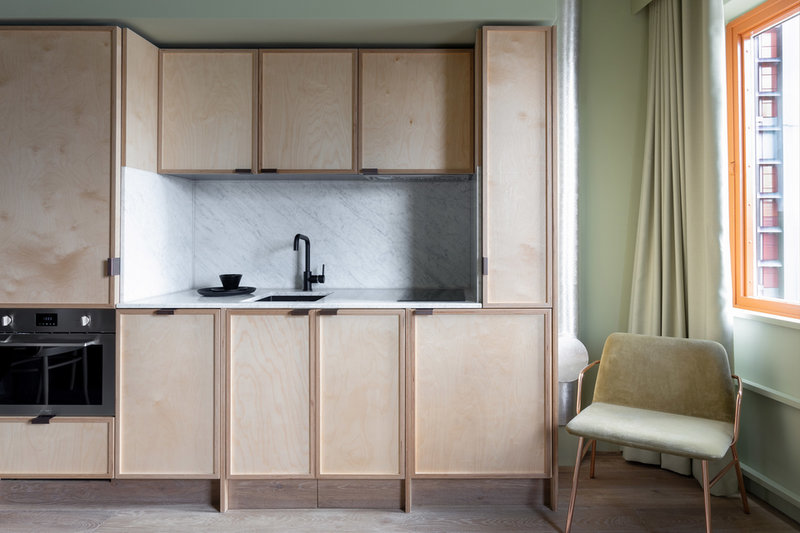 Guests at Locke's design-led aparthotels have access to full kitchen facilities in their apartment.
Offering the best of both
The success of Airbnb has drawn attention to the aparthotel concept, a hybrid of the traditional hotel environment and the home-like accommodation offered by brokers such as Airbnb.
Aparthotels typically offer a little more than the bed, bath and desk that you will find in more typical hotel rooms. At Locke Hotels, which offers design-led aparthotels across the UK, guests can expect fully equipped kitchens, flatscreen TVs, fast and secure Wi-Fi, washing machines, dryers and dishwashers.
These in-room amenities are offered alongside the hotel experience, with guests able to enjoy access to Locke's luxury bars and restaurants, as well as its wellness and fitness facilities.
We cater to travellers who want to explore vibrant neighbourhoods whilst staying in a safe, comfortable and stylish home-from-home.
"We've always questioned traditional category conventions and actively sought out better and more disruptive ways to meet the needs of the modern traveller. These principles lie at the very heart of our business to deliver soulful hospitality," Stephen McCall, CEO of edyn, the group behind the Locke brand, as well as serviced apartment company SACO, explains.
"At edyn, we cater to travellers who want to explore vibrant neighbourhoods whilst staying in a safe, comfortable and stylish home-from-home environment. We offer the space and facilities of a hotel but offer the flexibility and independence to live like a local, wherever they are."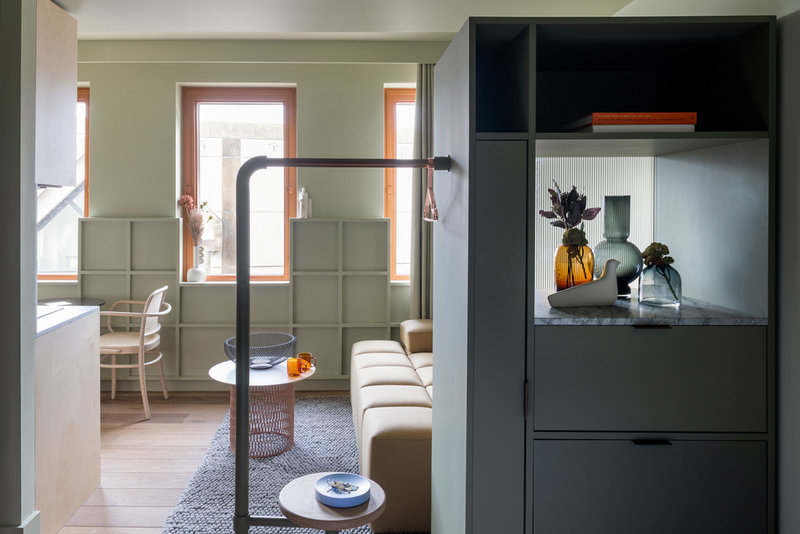 Responding to growing demand
While serviced accommodation and aparthotels are by no means a new concept, this accommodation type was typically targeted at those staying for longer periods in the past. Yet, according to commercial property consultancy Lambert Smith Hampton's VaVa Room report, the sector is now experiencing growth in demand from a far broader customer base.
"The demand for the serviced apartment and aparthotel sector is growing due to the flexibility, privacy, amenities and modern conveniences on offer within the comfort of our apartments," McCall says.
The demand for the serviced apartment and aparthotel sector is growing.
Unsurprisingly, growing interest has accelerated the development of properties in the sector — according to Lambert Smith Hampton, serviced apartments and aparthotels are now the fastest growing segment of the UK's hospitality accommodation market.
Currently, the serviced apartments sector (which includes aparthotels) makes up just 3% of the UK's total available hospitality accommodation, which is significantly less than many large international markets. Despite that, the segment accounts for 13% of the UK's active development pipeline, with plans to build 6,000 new units over the next few years underway.
If the 9% market share serviced accommodation holds in the US is anything to go by, the UK is likely to see further, and substantial growth in the coming years.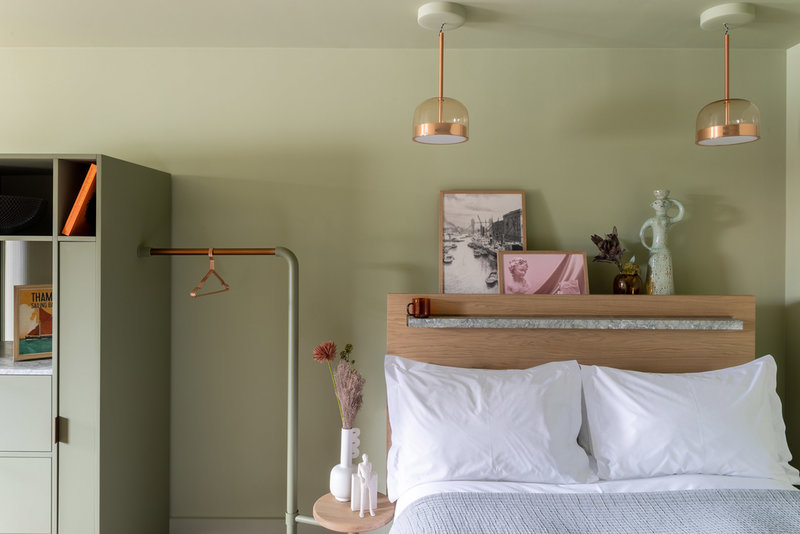 Decorative items help to make Locke Hotel's serviced apartments feel more homely.
Despite Covid-19 having largely rocked the hospitality industry, companies like edyn are continuing to expand their portfolio amid the pandemic. The group added another UK property to its Locke portfolio in September and has announced expansion plans that will see new properties open in Germany, Ireland and Portugal over the next two years.
However, it isn't just those that specialise in serviced apartment accommodation that are looking to benefit from the growth in demand.
As an asset class, 'extended stay' has been increasingly resilient and relevant in recent times.
In July, leading hotelier Radisson signed a deal with hotel management company Cycas Hospitality to open a new 227-suite aparthotel in Amsterdam, which will become the first serviced apartments product to launch under the Radisson brand in Western Europe.
"We are proud to launch our first extended stay product in Western Europe," Elie Younes, executive vice-president andchief development officer for Radisson Hotel Group, said. "As an asset class, 'extended stay' has been increasingly resilient and relevant in recent times."
Likewise, Adagio - a joint venture launched by AccorHotels and Pierre & Vacances, which has been gradually expanding across Europe since 2007 - has announced plans to double its portfolio of aparthotels by 2023.
According to the Office for National Statistics, Covid-19 has hit the UK's hospitality industry worse than any other sector. As lockdown measures were implemented and visitor numbers plummeted, the hotel industry felt its effects globally.
Hilton, which announced its Q2 earnings in August, saw revenue plummet by 81% compared to the same period in 2019, dropping from a net income of $260m to a loss of $430m. Likewise, in the same quarter, Marriott's RevPAR dropped by 84.4% globally, with the company reporting a $234m loss, compared to $232m net income 12 months prior.
However, aparthotels seem to have escaped much of the damage caused by Covid-19.
"The majority of our locations across our portfolio were able to remain open throughout lockdown as a safe space for long-term residents and key workers," McCall explains.
Aparthotels offer flexibility and space that you don't find in a typical hotel.
In fact, in some ways, the aparthotel brand has benefitted from the pandemic, with the company's average stay length having risen from 11 nights to 40. And in its wake, the company believes that aparthotels will see further growth as travel habits, demands and expectations change.
"In these Covid-19 times, we know that our guests (both leisure and corporates) are now seeking health and safety assurances as a priority," McCall says. "Travellers who originally embraced the typical hotel experience are retreating to the consistency, safety and security of aparthotels that blend the best of a lifestyle/boutique hotel and the space, practicality and privacy of a serviced apartment.
"Our aparthotels offer flexibility and space that you don't find in a typical hotel and in these times, travellers are really seeing the benefit of the personal space we can offer."