Kitting out the hotel kitchen
From convincing guests to return to eateries to dealing with closures and maintaining efficiency during periods of social distancing, the pandemic has created new challenges to overcome. So how are hotels investing in their kitchens and restaurants, and how will technology continue to improve efficiency, both during the pandemic and after it? Luke Christou reports.
S
ome 79% of restaurant operators believe that technology will be key to addressing many of hospitality's current challenges, helping them to reach greater levels of operational performance and guest satisfaction, according to Starfleet Research.
Induction cooking is one technology that has seen demand grow of late. While by no means a new concept, hospitality has been slow to adopt induction equipment, instead keeping faith in more traditional gas and electric equipment. However, that has changed over the last decade. In 2010, a Mintel survey estimated that just 5% of cooks had an induction range or cooktop, but 22% planned to switch with their next purchase.
Interest in induction cooking has grown in line with falling prices and greater understanding of its improved efficiency and reduced costs. The technology uses magnetic currents to heat cooking vessels directly. As a result, optimal heat can be reached up to 50% faster and with greater precision, meaning meals are cooked in less time and with fewer mistakes.
Requiring less clean up, and with a reduced risk of spills, burning, or accidents, induction can provide a significant boost to kitchen efficiency and profitability. In hotel kitchens, this time saving allows staff to focus on what really matters: producing a variety of cuisines for an abundance of guests.
"The new kitchen allows us to develop new techniques and push the food offering further than ever before," Douglas Balish, executive chef at Pembrokeshire's luxury Grove Hotel Narberth, said following the hotel's kitchen redesign earlier this year, which included the installation of eight new induction hobs.
In the US, up to 15% of hotels could face bankruptcy as a result of Covid-19 according to the US Travel Association. In Europe, predictions are even more bleak, with Swiss hotel owners putting their risk of bankruptcy at 23%. With the UK's hospitality sector among the worst hit industries, according to the Office for National Statistics, there are undoubtedly similar fears in the UK market.
No matter what hotels were investing in before, priorities will have undoubtedly changed as a result of the pandemic.
Most manufacturers have seen equipment sales fall by 80% since the start of the pandemic.
In its recent 'State of the Market Survey', the Foodservice Equipment Association found that most manufacturers have seen equipment sales fall by 80% since the start of the pandemic.
The majority of its members don't expect sales to return to pre-pandemic levels until December 2021. However, the association believes that hospitality businesses will instead look to invest in innovative technologies as they seek out ways to overcome new challenges.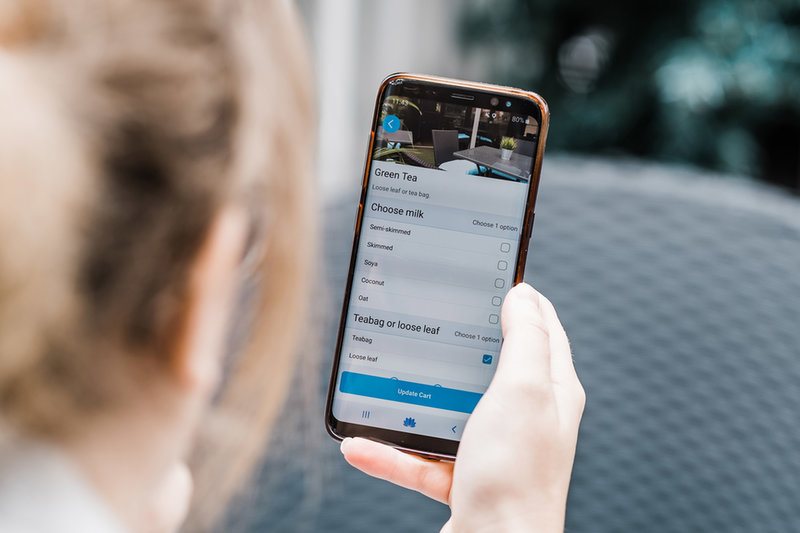 The Zapaygo platform allows hotel guests to pre-order their meals at hotel eateries. Credit: TMS Photography | Tracey Smith
According to a recent study carried out by hotel technology provider Criton, 48% of guests would be more likely to go to a hotel restaurant in the wake of Covid-19 if they had the ability to order their food via an app.
With reduced capacity, social distancing measures and heightened customer fears likely to persist for some time, point of sale (POS) technology is likely to remain as a key area of interest for those in hospitality.
"Undoubtedly due to Covid-19, there has been a significant change in how guests are looking to interact with the hotel," Julie Grieve, founder and CEO of Criton, says.
Amid the pandemic, hospitality pre-order and delivery platform Zapaygo has been working with hotels such as the Firth Hotel in Lossiemouth, Scotland; The Plough Inn in Suffolk, England; and the Ingliston Hotel and Country Club in Bishopton, Scotland to improve efficiency and safety for both guests and employees.
There has been a significant change in how guests are looking to interact with the hotel.
"We've been working with a number of hotels across the UK to improve their internal operations during the pandemic and provide an efficient service for both the business and
consumer," Brian McClafferty, growth strategist at Zapaygo, says. "Those dining at the hotel can pre-order and pre-pay using our app, which takes minimal time and offers no direct contact between staff and guests."
However, such technology isn't just proving useful in solving Covid-related problems for hotel establishments, but other long-standing issues such as server errors and dietary requests.
"We have been told about situations where a chef has been unable to read an amendment on a customer's order and this has delayed the kitchen staff and food timings," McClafferty explains. "This could be detrimental to the hotel as it's vital a customer's order is right, given we've sadly seen fatal incidents from Pret a Manger and Byron Burger."
The industry is understandably focused on overcoming Covid-19, but attention will eventually turn back to other pressing issues, such as sustainability.
According to Booking.com's sustainable travel report, 72% of tourists are determined to make more sustainable travel choices. Subsequently, investment in the latest equipment and technologies - from energy efficient dishwashers, to recyclable refrigerators - makes sense for hotels determined to show guests that they are committed to improving their environmental impact.
However, hotels will also need to find ways to reduce the mountain of food waste that the industry produces.
"Measuring food waste is an age-old problem for the hospitality sector. Our data collected in kitchens around the world shows that 5%-15% of food purchased ends up being wasted," Marc Zornes, CEO of hospitality technology company Winnow, explains.
Data collected in kitchens around the world shows that 5%-15% of food purchased ends up being wasted.
However, Winnow Vision, the company's advanced food waste monitoring system, is helping hotel groups to drastically reduce their waste. The technology uses artificial intelligence (AI) algorithms to automate waste monitoring, providing the accurate data that kitchen staff need to improve operations and minimise wastage.
"Winnow's technology is effectively teaching a machine 'how to see' what is thrown away which will in turn provide more accurate data for teams to improve decision making," Zornes explains. "With margins under pressure, there's never been a more important time to run an efficient kitchen, and minimising wastage is crucial to achieving this."
The reduction translates into substantial financial savings for the large hotels, resorts and cruise ships that rely on Winnow Vision. At AccorHotels' five-star Sofitel Bangkok Sukhumvit in Bangkok, for instance, the value of its food waste fell by 50% within six months of implementing the technology, producing annual savings of $60,000.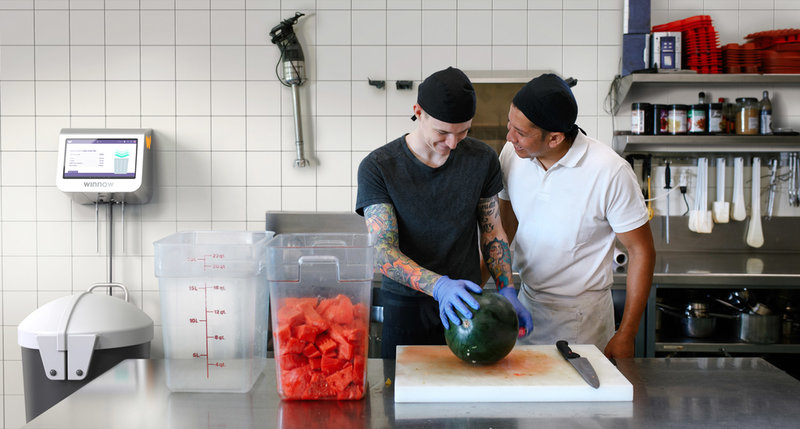 Vision learns and monitors what is being thrown away. Credit: Winnow
Studies have found that hotels save $7 on average for every $1 spent on reducing food waste in their kitchens. Despite that, less than one fifth of the hotel industry currently uses technology to manage its waste, according to hospitality technology company Access.
However, the industry is well aware of the benefits technology can provide, with 54% having planned to increase tech investment prior to the Covid-19 outbreak. This could be good news for the host of automation solutions - from food waste management systems to robotic chefs - that are emerging in the hospitality market.
"Across the industry, AI is having a transformative effect helping operators deliver increased revenues, improved resource efficiencies and improved customer experiences," Zornes says. "We believe that in the future every hotel kitchen will be equipped with this type of technology helping businesses improve profitability whilst doing the right thing for the environment at the same time."