The ghost kitchens haunting empty hotels
With hotel kitchens largely devoid of both chefs and servers due to local restrictions and social distancing measures, the high-tech havens have a new purpose, as a hub for delivery only operations, aka ghost kitchens. Luke Christou finds out more about the trend of ghost kitchens in the hotel space.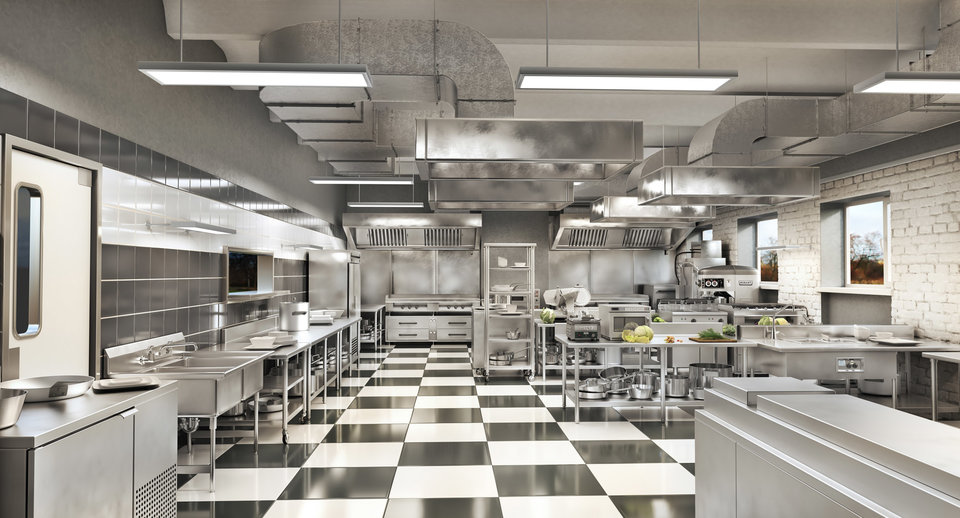 F
ood & beverage (F&B) is far from the loss leader it once was for the hotel industry, contributing as much as 30% in major cities such as London. However, F&B profits have seen significant decline in recent years, with property consultancy Knight Frank estimating a 12%-point change in UK profit margins between 2016 and 2019 as regulatory changes and increases to the national living wage increased payroll costs.
While hotels were often happy to overstaff their kitchens, with staffing costs estimated at up to10% higher than typical restaurant establishments to ensure a smooth operation and high customer satisfaction, the pandemic - costing hospitality businesses up to £200m per day in the UK alone - has forced many to reconsider their F&B operations.
"Most kitchens within the hospitality industry are underutilised and carry excess capacity. The problem has traditionally been particularly acute in hotels, with kitchens left open through long periods of minimal activity each day," Salima Vellani, founder and CEO of ghost kitchen start-up Kbox Global, explains.
"Before the pandemic, this was perhaps seen as the inevitable cost of doing business. However, after a year of constant financial pressures, hoteliers can't afford to hold to these norms any longer."
The rise of the hotel ghost kitchen
With hotels experiencing record lows for occupancy and revenues, the pandemic has accelerated a trend that has been proposed as a possible solution to underutilisation in the industry for some time: ghost kitchens.
These delivery-only restaurants, typically set up in commercial kitchens with excess capacity, are aimed at serving the fast-growing online food delivery market. Well suited for hotel kitchens, ghost kitchens can provide meals to hotel guests, while also serving the wider community, helping to eliminate the slow spells that eat away at hotel F&B profits.
"If hotel guests are not interested in meals throughout the day, the custom for utilising the kitchen effectively must come from outside the premises. It seems counter-intuitive, but hotels must start caring about customers other than their guests if they want their kitchens to start turning a profit," Vellani insists.
Kbox's model sees establishments lease access to its range of virtual restaurant brands. A kitchen assessment helps to determine the right brands for the establishment based on kitchen size, equipment, ingredients, labour and processes, as well as local competition and demographics.
It seems counter-intuitive, but hotels must start caring about customers other than their guests.
In a matter of days, kitchens can begin to sell to customers outside of the hotel via delivery apps such as Uber Eats and Deliveroo.
According to data collected by the Office for National Statistics, a third of UK hospitality firms feared collapse last year. However, ghost kitchens have been able to provide some relief to struggling hoteliers. For instance, one of Kbox's customers, a hotel in Thurrock, was able to generate weekly sales of £6,500 by transforming its idle kitchen into a food delivery hub.
"We are seeing success stories all over the country and are excited by the opportunity to assist hotel owners through this very difficult time," Vellani says.
"Hotel kitchens of all sizes and in a wide variety of locations – from the city centre to the seaside – can drive meaningful incremental revenues by adopting a multi-brand, tech-enabled approach to food delivery and demand for our technology platform has skyrocketed during the pandemic."

Kbox enables hotels to operate popular delivery-only franchises from their underutilised kitchens. Credit: Kbox
A menu of options for hoteliers
Hotel operators looking to transform their kitchens have likely found themselves spoilt for choice.
In the US market, Virtual Dining Concepts (VDC) operates a similar model to Kbox. Through VDC's partnerships with various celebrities, such as singer Mariah Carey, rapper Tyga and YouTuber MrBeast, hotels can leverage established names to increase their F&B revenues through branded ghost restaurants such as 'Mariah's Cookies' and 'MrBeast Burger'.
However, other solutions have emerged that allow hotels to take a backseat on F&B while continuing to enjoy a cut of the profits. Ghost kitchen concept C3, for instance, recently announced that it was teaming up with boutique chain Graduate Hotels to take over kitchen operations at six of its hotels from mid-2021.
The kitchen space will become home to six C3 brands, such as Umami Burger, Krispy Rice and Sam's Crispy Chicken, where food will be prepared and served to the public via third-party apps, as well to hotel guests through Graduate's food halls.
Solutions have emerged that allow hotels to take a backseat on F&B while continuing to enjoy a cut of the profits.
With many of Graduate's properties located in student towns, chain founder Ben Weprin believes that the change will enable Graduate Hotels to "best serve guests, students and locals" with a "streamlined and convenient approach that reflects today's market".
Butler Hospitality, which takes on full responsibility for hotel kitchen staffing, standards and logistics to provide room service to in-house guests as well as guests at neighbouring hotels, is also attracting interest.
Since its launch in 2016, the start-up has been opening ghost kitchens in full-service kitchens across New York to provide its 'new level' in-room dining service concept. Boosted by a $15m Series A investment round last July, at a time when many food service businesses were struggling, Butler Hospitality expanded its business to Chicago during the pandemic.
Butler Hospitality's expansion will start with the centrally located Godfrey Hotel, which will enable it to serve hotels in the River North and Chicago Loop, before expanding throughout the city. Additional operations in Miami and Washington D.C. are also planned.
The Godfrey Hotel joins more than 120 hotels that are already served by the growing start-up, including premises operated by industry leaders such as Marriott and Hilton.
Others, however, have used their disused kitchen space to do some good, offering up space to businesses that have fallen on hard times. The Hotel Revival in Baltimore, for instance, provided local restaurant The Urban Oyster with rent-free kitchen space during the pandemic after it was forced to close its premises, enabling it to continue serving customers via curbside pickup and delivery.
Likewise, in Derbyshire, UK, the Grail Court Hotel provided the space for a community kitchen to prepare free meals to deliver to struggling locals.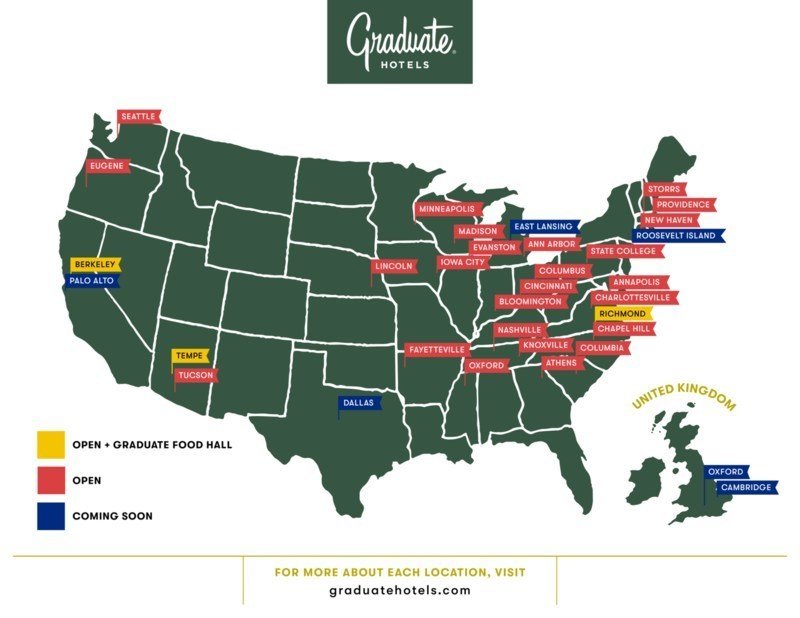 C3 will take over kitchen operations at Graduate Hotels across the United States. Credit: PRNewsfoto | C3
A permanent resident in hotel kitchens
The pandemic has certainly drawn greater attention to the ghost kitchen concept. Experts estimate that the US market has experienced five years' worth of growth in a matter of months.
The pandemic will eventually subside, but inefficient hotel kitchens will not. However, with hoteliers having realised the additional revenue that can be generated from underutilised kitchen space, Vellani believes that the ghost kitchen trend is here to stay – driven by consumer demand for online food delivery.
According to a recent report from guest experience management firm HGEM, two-thirds of guests have used a delivery service to order food to their room. Yet, with hotel food service perceived as unappealing or expensive, 81% of guests say they would never order room service.
The pandemic will eventually subside, but inefficient hotel kitchens will not.
"I believe that smarter utilisation of kitchens is a trend that is set to continue growing in line with the broad trend towards increased online food delivery orders," Vellani insists.
"The host kitchen approach not only makes it easier to improve kitchen profitability, but it can improve the quality and relevance of the on-premises offering too. In fact, as I have mentioned, since becoming a host kitchen, several of our customers have found that their delivery brands are so popular that they have introduced them into their restaurants."
Ghost kitchens have provided relief during a difficult spell for the hotel industry. But with Euromonitor predicting a $1tn global market by 2030, they are tipped to continue cooking up profits for hotel F&B long after the pandemic.